ONE STOP SOLUTION FOR EFFECTIVE TEACHING LEARNING OUTCOME: THE INTERACTIVE WHITEBOARD / INTERACTIVE FLAT PANEL DISPLAY
Are you someone from education sector or from a environment where the motive is not just learning but effective learning for a learner and effective delivery of session for a Teacher/Trainer/Presenter?
If the answer to the above question is yes then you are definitely at the right place. In today's digital Era where we have so many options in front of us we really don't understand what exactly should we choose or would be the best fit for our requirement of Effective teaching
and learning methodology. We have a lot of Audio (A) Video (V) technology options to choose from, for the creation of that most effective, Immersive learning environment. Audio Video Technology since its inception has been evolving right from the TV era where we had video player to show short educational films to computers which had all audio video capabilities to the internet age where now its everything online
or cloud based or collaboration or we can call it the LIVE age.
Today's Audio Video technology has come full circle in education sector where the blackboard and chalk for teachers and pen and book for students have taken a back seat and teaching and learning process have evolved to a more intuitive and interactive approach.
Now the question arises how?
The answer is none other than the Interactive whiteboard(IWB) /Interactive flat panel display (IFPD) Yesss!!! The latest addition to the AV family in education sector is the interactive whiteboard/Interactive flat panel display. No digital learning environment is complete without this tool. It is the major AV technology product used worldwide.
THE INTERACTIVE WHITE BOARD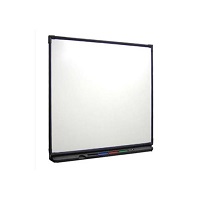 Vs
The interactive flat panel or IFP in short is the latest version of the interactive whiteboard that is mostly used in education sector. The IFP is really a very fancy flat screen TV that has a reinforced glass front to prevent damage to the led screen underneath, multiple inputs for your teaching computer and a full touch screen facility, some offer 2 point, 4 point or even 16 point touch. The number of touch is how many different points the screen sees at any one time, i.e, on a 10 point touch it can recognize up to 10 fingers touching 10 separate points at the
same time. This ensures that you can future proof most software applications and allows for multiple students and teachers to use
the screen at the same time. This can be useful where students are solving problems together or in collaboration at the board.
There are currently two main types of IFP, one type, which is the cheapest is IR (Infrared), the other uses a newer technology
called inglass (Capacitive touch), the most optimum choice in terms of smooth functionality.
INTERACTIVE FLAT SCREEN DISPLAY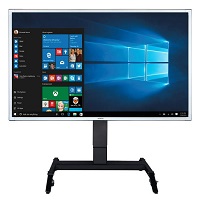 ADVANTAGES OF IWB/IFPD
Enhanced presentation content with live use of internet on the go with annotations integration online.
Creates collaborative, fun and engaging learning environment thus stimulating the senses of the receivers and creating
effective learning environment and ultimately the learner understands the subject in a more interesting, easy and effective
manner.
Due to its ability to screen share and recording lecture notes/audio/video in real time it allows the students to review/Revise              lecture session completely as it was delivered as well as it can be shared so even the absentees can benefit from the same.
Easy structuring of learning sessions.
With access to audio as well as video learning each different type of learner will be able to grasp the session in a more
effective way.
Due to its use of collaborative and streaming technologies the sessions can be conducted in classroom with add on facility of
live streaming / session sharing real time or as per the need of user thus we can conduct online classes as well as classroom
session with collaborative learning environment.
Saving on teaching cost since use of various learning aid like chalk, eraser or blackboard painting cost each year or be it
notebook, pen, paper etc. is not required as IWB/IFPD comes with LCD touchscreen display/channel which can be connected
to any computer for sessions to be held with add on ability of screen/session sharing online.
Thus we can conclude that the best possible tool that any modern learning environment should have or we can say is
incomplete is the Interactive whiteboard/Interactive flat panel display as it's the best fit in any classroom/training room or any
learning environment where the motive is not just learning but effective teaching-learning process from anytime anywhere
everywhere.
Note that the advantages or features mentioned above are more generic in terms of product than being specific in terms of brand
as IWB/IFPD are available with different companies with different features more or less common to some extent as well
as different than the other in some aspects that is one cannot guarantee you will get all the above listed features in all
interactive whiteboard/Interactive flat panel displays available in market. Here comes the catch to choose wisely.
So again before choosing the right fit for your need one must try to understand what features are necessary for your requirement
and accordingly choose the right fit of product and thus the perfect brand for your organization.
To learn more about the right brand or the right fit as per your requirement you can reach us too online/offline/on call and we
will be at your service the next minute.
Till then do share your feedback and let us know how can we be more informative at your service.
See you all soon with next big AV thing in our next blog